Frequently Asked Questions about this Course
Learn how to preserve and restore your own photographs using Photoshop and Photoshop Elements. A course with theory and practice videos. 100+ page PDF workbook (an optional, premium quality paperback version is available separately through Lulu Press. The course has been tested and successfully applied in live classrooms. 1-Year Free Phone/Online Help. 16 hours.
Photo Restoration and Retouching Foundations Course FAQ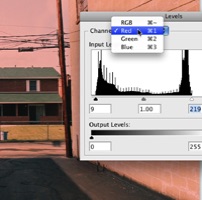 Q: Can I purchase a paperback edition of the workbook?
A: Yes! Although each course includes a high-quality PDF of the workbook which you can print at home if you choose, we now have a premium paperback edition available through Lulu Press.
Q: Why does it cost so much?
A: If you enrolled in our class here in Evanston, Illinois, you would pay slightly more (including transportation and supplies). This course has more information and a beautiful and easy-to-read text book. You can replay any portions. You also have access to the instructor, Eric Basir through telephone or internet. We put 4 years of production into this course. It is not a tutorial. It is a comprehensive course to give you a foundation to correctly digitize and edit your photographic collection. It is also a refined course. That is, Eric has taught it to real people in a real classroom since 2002. You get optimum value for your money when purchasing this course.
Q: I already own some of your tutorials and books. Why do I need this class?
A: Simply put, the tutorials and books supplement or reinforce what you learned in our tutorials and books. Once you complete the Photo Restoration & Retouching Foundations Class, you will be amazed with your own abilities. You will truly have a firm foundation. A subsequent review of the tutorials and books will provide you a fuller understanding and more confidence. Using the tutorials and books instead of the class robs you of a comprehensive understanding of photo retouching fundamentals.
Q: I was a student in one of your classes and workshops? Does this course cover the same topics? Do I really need it?
A: If you attended our Photoshop Class at the Evanston Township High School Adult Continuing Education Center (Now facilitated by Oakton Community College), the Photo Restoration & Retouching Foundations Course is almost identical. There is also more information in the workbook than you had in our Evanston class or handouts at genealogical societies. Besides having the ability to replay the video at any time, you will have full control over the pace of the lessons.—This video will refresh your memory and help you overcome weaknesses. It's worth it! If you attended Eric's workshops at various genealogical society conferences, you definitely need this course. Just the fact that you can follow along with your own computer is worth the cost.
Q: I am trying to learn Adobe Photoshop Elements. Does your class cover that?
A: Yes. In fact, all the fundamental tools and functions in Adobe Photoshop are found in Adobe Photoshop Elements. Almost half of our students use Elements. There is one function taught in the class not shared between the programs. However, that is not a foundational function and it is covered in the tenth lesson.
Q: Do you sell Adobe Photoshop and Adobe Photoshop Elements?
A: No.
Q: Can I request a copy at no-charge for my organization?
A: Due to the tremendous costs involved with producing this class, we are not offering any complimentary copies. However, we can offer a significant discount with certain conditions. Contact us with your request for a discount. Join the Photo Grafix University email newsletter so you don't miss any sales that come up.
Q: How do I request a refund for the Photo Restoration & Retouching Foundations Class?
A: This is only applicable to the DVD set. There is no refund for the digital download version. You have 14 days from the time you receive the package to review it. If 14 days have not yet passed, notify us that you are returning it and promptly mail the entire package to:
Photo Grafix, P.O. Box 992, Evanston, IL 60204-0992. If the video and workbook package is undamaged we will refund your money in the same method you paid for it (Paypal refund for Paypal payment or check or cash refund for check or cash payment). Paypal will take a small percentage from the total for their fee. We will not charge any fee for refunds. On-Demand download purchases are not refundable.
Q: I purchased your DVD and workbook set a few weeks ago. When I got home and opened it, I found out that the PC requirements are:
1 GB of RAM
100 GB of available hard-disk space
I have a Dell Latitude D610
Intel ® Pentium® M
Processor 1.86 GHz
782 MHz, 504 MB RAM
The hard drive is only a total of 80 GB with only 37GB of free space
I have a 500GB external hard drive for back up. Is there any way that I can use your training package?
A: You will be able to use it. Those requirements are only for general guidelines. You will probably only use 25% of what your current computer has to do the course. Please go ahead and do the course. Let me know if any problems come up or if you have more questions.
Q: I have a question not listed here. Where do I send it?
A: Contact us here or post it to the Photo Grafix University Facebook Page.